What causes pain in the back or neck?
Muscle spasm and strain which are often related to physical activity, like heavy lifting
Ligament strain
Stiff neck (as in torticollis) is caused by sleeping in an odd position or straining the muscles of the neck in other ways
Bulging or ruptured disks. When a disk bulges out of its usual space, it can compress nerves. Nerve compression causes discomfort
Arthritis and osteoporosis are also causes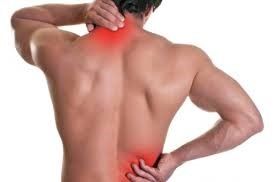 How does acupuncture evaluate and treat back pain and neck pain?
The latest study, published in the Archives of Internal Medicine, found that treatment with acupuncture works better than the usual methods for dealing with chronic pain, like over-the-counter or prescription pain medications. The pain relief was modest … but real.
I use the location of your pain to determine the affected acupuncture meridians, and then follow those meridians down their pathways to powerful points in the extremities. In the case of acute spasm, I would not apply acupuncture to the spasmed muscles. For chronic pain, I would apply treatment to the affected areas.
In addition to acupuncture, I use cupping, Guasha and Tuina medical massage to support treatments done in the clinic.
Herbal medicine is also an assistant treatment