Dr.  Yan Zhang, L,Ac, MD (China)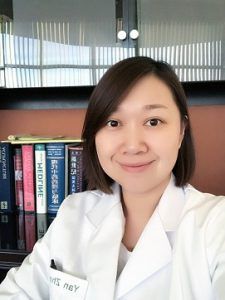 Dr. Zhang is a NYC Licensed Acupuncturist and Herbalist who has over 20 years' experience in both traditional Chinese medicine and Western medicine. She is the former executive board of directors of United Alliance of New York State Licensed Acupuncturists (UANYSLA) and former professor in the New York College of Traditional Chinese Medicine.
Dr. Zhang specializes in managing and treating multiple complex health conditions, as well as simple musculo-skeletal injuries, sprains and strains. She has much experience with: Infertility, Men's Health Issues
(Erectile Dysfunction ED, Premature Ejaculation, Prostatitis, BPH, Urinary Dribbling), Pediatric Diseases (ADHD, Delayed Development, Autism), Women's Health Issues (Hyperemesis Gravidarum, Irregular Menstruation, Endometriosis, Low Libido, Vaginal Dryness, Menopause, PCOS, PMS),
Mental Disorders (Anxiety, Depression, PTSD, Bipolar mood disorder, Schizophrenia), Digestive Disorders, Cosmetic Acupuncture, Allergy, Diabetes, Hypertension, Respiratory Diseases (Chronic cough, COPD, Bronchitis, Sleep Apnea, Asthma) , Pain Management (neck /arm/back/knee pain, arthritis, sport injury, Fibromyalgia, Plantar Fasciitis),
Weight Loss
, Chronic Fatigue, Allergies,  Insomnia, Migraine, Psoriasis, Drug Addition, Paraplegia, Bell Palsy, Arthritis, and Auto Immune System's Disease.
She has published  1 book titled  The clinical application of Shang Han Lun Formulas    and 10 papers on Western Medicine and Traditional Chinese Medicine (TCM). Before coming to America, She held the position of  medical director and associate professor of  the  Education and Research Department at  Ningbo Hospital in China.
Education
Master's Degree in Acupuncture, O.M.D. 2008 Guangzhou University of Chinese Medicine Guangzhou, China
Bachelor Degree in Acupuncture, O.M.D. 2005 Jiangxi University of Traditional Chinese Medicine Nanchang, China
Certification
Diplomat in Acupuncture, NY, 2018
Diplomat in Oriental Medicine, New Mexico, 2016
Diploma in Oriental Medicine, NCCAOM, 2016
MD (China),2011
Doctor of Oriental Medicine (China), 2006
Professional experience
Executive board of directors of United Alliance of New York State Licensed Acupuncturists (UANYSLA)
New York College of TCM
Consultant of Acupuncture and Oriental Medicine, Yi Lin Medical Center, Albuquerque, NM
Medical Director, No.7 Hospital of Ningbo city Ningbo, China
Lectorate, Medical College of Ningbo University
Exchange scholar, Royal free Hospital of London, UK
Dr. Zhang Specialized in Treating the Following:
Colds & Allergies
Runny or congested nose (Rhinitis)
Sneezing, itchy nose & throat
Sinusitis
Hay Fever
Other cold & allergy related symptoms
Aches & Pain Management
Headaches and migraines
Back, knee, shoulder, neck and other pains
Muscle Aches
Join Pains
Tennis Elbow (Epicondylitis)
Golfer's Elbow
Arthritis (Rheumatic Arthritis)
AS (Ankylosing Spondylitis)
Women's Health
Irregular Periods
Menstrual Cramps
Hot Flashes
Menopause
PMS
Sterility
Vaginal dryness
Sexual apathy
Sjogren syndrome
Men's Health
Infertility
Oligospermia
Impotence
Premature Ejaculation
Long term fatigue
Prostate diseases
Digestive Ailments
Constipation
Nausea (post-Chemotherapy)
Indigestion
Diarrhea
IBS
Hiccups
Crohn's disease
General Health Issues
Insomnia
Low energy, fatigue
Stress & anxieties
Liver Spots
Acne, chloasma, Scar
Pediatric diseases
Autism
Delayed development
Asthma
Allergy

Tourette Syndrome

We provide best services for Acupuncture in Garden City NY.